One of the projects I'm working on is creating a new back drop or wall for the blog and website. I've been really inspired by Monet's Waterlilies series: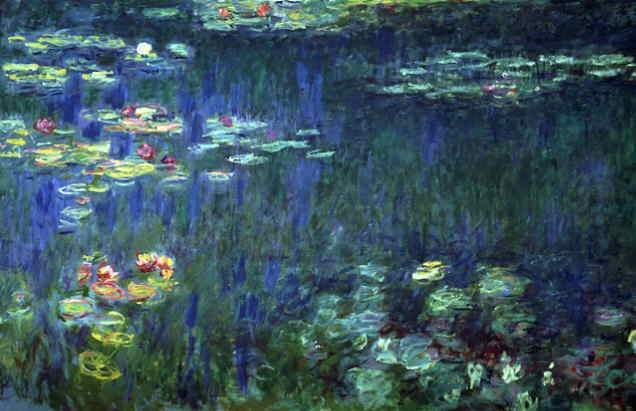 My thought is to incorporate the beautiful colors, the LilyStitch Lily* (check out banner on
blog
/
website
) on 48 ct gauze with needlepoint, stumpwork, goldwork, etc to create a unique background that embodies what LilyStitch is about.
First, I decided that I want to use 22 ct Congress Cloth for the base fabric. Unfortunately, I didn't have any balck:
So I decided to make a black. Because I was covering a large area, I really didn't want to hand paint it so I ran to the basement and grabbed the spray paint. Again, I didn't have black but I had some really great dark green that worked wonderfully:
Then out comes the paints.... luscious blues, greens, browns....
The great thing about this project is that I can water down and paint like a free kindergarden kid....
The LilyStitch Lily was whipped into place as a temporary measure with sewing thread so please don't let those black stitch bother you - they will disappear! :)
My thought is to stitch 16x16 sts blocks on the left and right hand side (thus the holding lines). This will make visual columns on each side that will serve as eye candy. Once they are in, I will add perhaps a Stumpwork dragon fly or critters of some type. All of the blocks will be outlined with some Goldwork (thinking braided or cross stitch variety rather than laid). Also, I've left the top right area of the banner open for some sort or needle art but I don't have a vision of what that will be .... yet...
First block is in using a Rice Stitch - next post on the Background Project will have details.
* There have been so many requests for this pattern, I will soon be adding it to the LilyStitch store that is due out in the next month or so. Haven't decided if I will do a kit but I'm thinking about it. Let me know if you are interested. Stay posted!
Christa, Lilystitch
www.lilystitch.blogspot.com and www.lilystitch.com